Mindfulness for Effectiveness at Work
Certificate of completion
Free Access to Day 1 Modules
To help learners understand the value and quality of the course, we offer free access to the first module. This way, potential students can explore the course content, teaching style, and overall approach before making the purchase decision. This reduces the risk for learners and boosts their confidence in the course.
Why should I take this course?
Mindfulness in the workplace can benefit everyone!
The workplace is a roller coaster ride. It's fast-paced, competitive, and, at times, very stressful. It is therefore important that you perform at your best, be productive and focused, and get along with colleagues, management, and/or clients. This is where mindfulness comes in, helping you to feel less stressed, be less reactive, and improve your compassion while simultaneously strengthening areas of focus, productivity, and resilience.

Mindfulness is a benefit for everyone; managers, supervisors, coworkers, and subordinates. You'll learn how to be present, focused, and engaged with your team in a positive way so that you're all more effective and engaged. You can't lead a team well if you're not fully present and clear. Developing and practicing a mindfulness practice can help you lead your team with the clarity and compassion needed for effective decision-making and strong relationships with the members of your team.

In short, everyone's a winner when the work culture embraces and incorporates mindfulness. Whether you are an employer or employee, mindfulness practices can be a great way to ground yourself and get a short, beneficial break in the middle of a chaotic workday.
Achieve your goals
This signature mindfulness course will teach you everything you need, to get started with the practice of mindfulness and apply it to your time at work and in life.

Mindfulness has helped so many people make sense of their relationship with this complex world, and to function more effectively and live more wisely. And I hope this course will do the same for you.

Each day's learning consists of four parts: a video guidance, an audio guidance, a text guidance, and a check-in guidance consisting a poll question and a journal question. The time spent on these four parts in total should not exceed 20 minutes every day.
What we offer
What's included?
Structured learning
Over the next four weeks, you will spend around 15-20 minutes every day on learning and practicing mindfulness.
Each day's learning consists of four parts: a video guidance, an audio guidance, a text guidance, and a check-in guidance consisting a poll question and a journal question.
Week 1:
Everything begins with paying attention
Week 1 covers the foundations of mindfulness, in particular how paying attention is integral to living mindfully
Week 2:
Change your relationship with stress
Week 2 covers the role of mindfulness in managing our stress and building resilience, as well as the skills of mindfulness.
Week 3:
Week 3 moves beyond mindfulness as a personal practice and covers applications of mindfulness in the context of relationships.
Week 4:
Making sense of it all
Week 4 consolidates what we have learned and understood about mindfulness, and offers deeper meaning to engaging with a mindful way of life.
Key to your transformation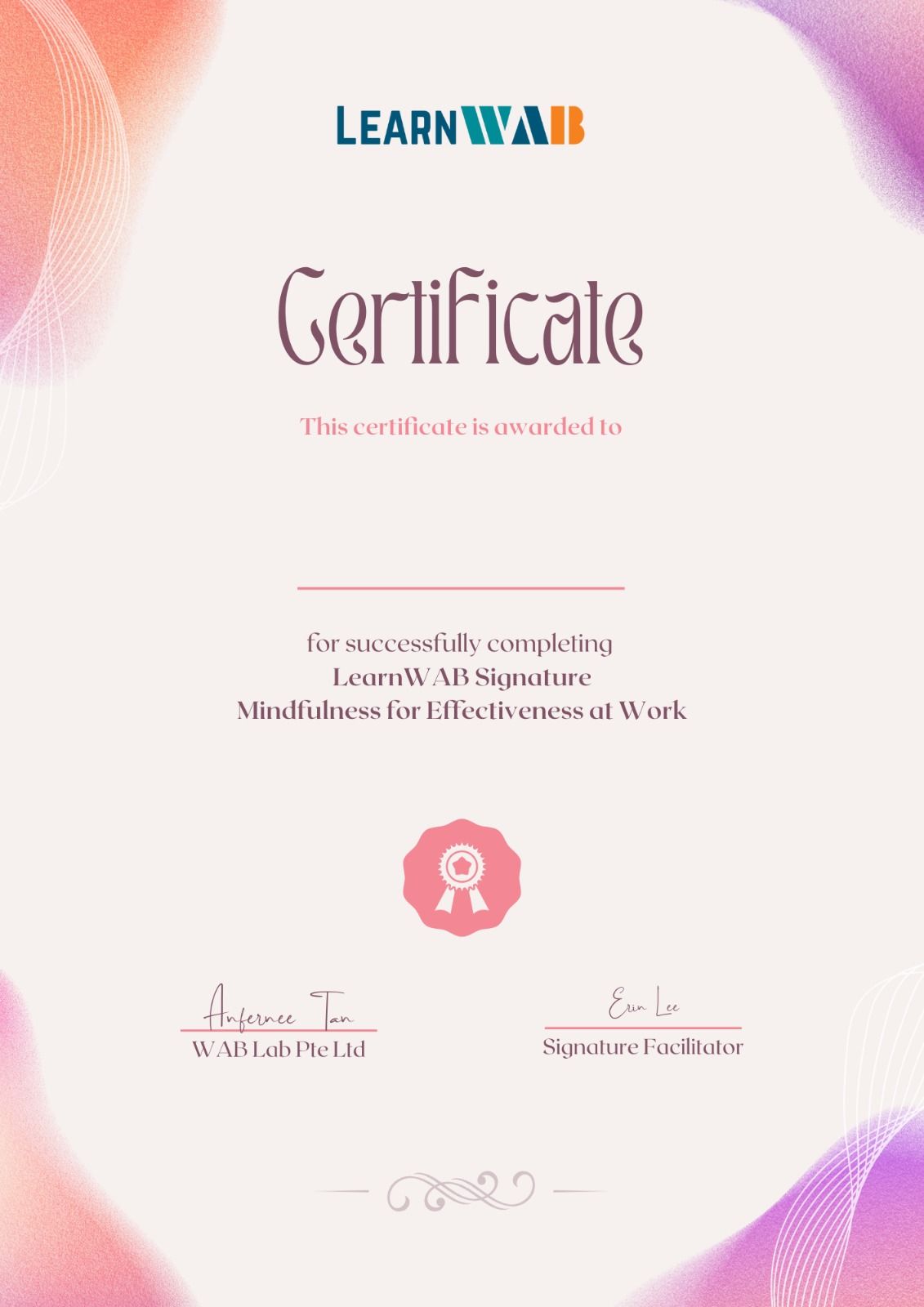 Certificate of Completion

When you complete a LearnWAB Signature Programme, you will receive a certificate of completion, which you can share with your friends, relatives, co-workers and potential employers!
Our students love us
You come away from the class a new, happier being each week; you realize you have a support and
that it's natural and right to do this; you make changes without even realizing, and when you
realize, it's magical.
Mindfulness makes you into a more well-rounded person. It helps you see the world in a clear light; it lets you hear
yourself better without all the negative chatter in your mind.
Mindfulness really helps if you commit yourself and dedicate the time to do it sincerely! Erin is a great mindfulness teacher and I really appreciate how she is so helpful. responsible, and non-judgmental.
I can't think of anyone who will not benefit from learning more about and practicing mindfulness, It is so all-inclusive that whatever your background and life situation, mindfulness opens the door for us to become more compassionate towards ourselves and others, and develop an attitude of gratitude for what we have.
Mindfulness is the best gift one can give to ourselves. After practicing mindfulness, I feel more focused and alert. I am able to manage stressful situations better since staying in the moment helps you not to think about the next steps and relieve from stress.

Invest in yourself, learn mindfulness!
Stress is endemic in today's day and age. Change is the only constant. We are surrounded by negativity in the media, news, etc. But we know that worrying is counter productive. Mindfulness helps us break out of this cycle and come back to the present because happiness is in the here and now
Erin Lee
Erin is a Mindfulness Coach and advocate of mindfulness as a way of life. She is dedicated to supporting individuals and communities in improving their mental health and wellbeing, and developing skills of mindful awareness and self-regulation for better resilience, mental flexibility and emotional balance, through the integration of attentional skills in both personal and professional lives.

Through Mindful Moments and Light On Life which she founded in 2014, Erin has worked with close to 100 organisations across public and private sectors to design and introduce mindfulness-based initiatives and interventions as a preventative approach to mental health, as well as encourage a culture of wellness at the workplace. She also works with practitioners one-on-one and in small groups to strengthen their skills and deepen their insights on mindful living.
Get in touch now and start improving your skills to achieve high performance.
FREE Quick Reference Sheets here!
Jam-packed with handy tips and tricks, these quick reference sheets are designed for professionals like you who need apply-immediately knowledge!